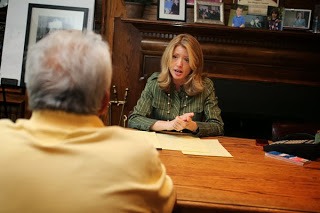 There are many ways to broach "the talk" with your aging parents about estate planning and the sooner you start the better, for all concerned.
A recent article in Huffington Post's Business Canada suggests that getting a plan together when your parents are still in good health will prevent any stress or confusion that could result should their health falter later in life.
1.            Don't shun the talk. Discussing personal finances is often considered a taboo, but many barriers can be knocked down if you approach the conversation openly, lay out your goals, and check them off.
2.            Don't wait for a health crisis — or any other crisis — to talk to your parents about their estate plans. If you feel disingenuous using some ice-breaking strategy then just be upfront about acknowledging how uncomfortable the topic makes you feel. That in itself is an ice breaker.
3.            Don't be a bull in a china shop. Ensure your parents feel loved and in control of the situation. Don't forget the discussion is about them and how they want you to fit in. Listen to their ideas to get a strong understanding of what they want. If you have suggestions then offer them, but don't expect that they'll immediately accept them, if at all. It's about people skills and open communication. If you know that will be a hurdle from the start, then perhaps a visit to a third party such as an estate lawyer or financial planner can help take the edge off.
4.            What to talk about. Assets, wills, and how your parents want to share their legacy; be prepared with specific questions about all those topics. Beyond that, you'll need to talk to your parents about plans about their income, retirement investment plans, and health care. Some professionals suggest commonly cited questions including: should your parents have a living will? Does the Power of Attorney cover off what your parents want addressed? Does your parents' will and estate plan clearly lay out the transfer process to beneficiaries or deal with tax issues?
5.            Discuss where the documents will be kept. After figuring out exactly what your parents want in their estate plan there must be clear guidance on where those plans will be kept. Experts in the industry stress the importance of knowing where to easily find phone numbers and contact names, details, and documents including wills, investments, and personal information such as birth certificates.